This time we will present you with a Krakow curiosity related to St. Mary's Basilica in Cracow. Probably many people passing by this basilica have not noticed an interesting detail, which are the jougs mounted at the right entrance to St. Mary's Basilica from the side of St. Mary's Square.
Let us first start with what are the jougs?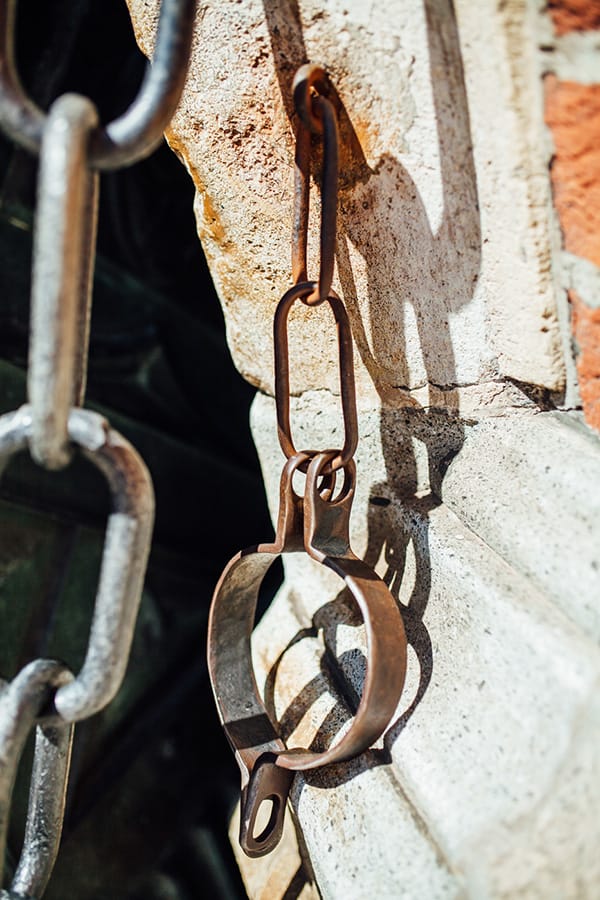 The jougs were an instrument that was used to fasten a condemned person (or penitent) to a particular place in order for him to serve his sentence. It usually consisted of an iron two-part hoop that could be locked around the neck (or hand) of the condemned person with a padlock. The whole thing was attached by a chain to the portal of the town hall or church (in smaller towns to the pillory).
Depending on the location, this device was mounted at different heights, so that the condemned person, for example, had to stand, kneel or even lie down. The pillory at St Mary's Church in Kraków was originally mounted at such a height that the person serving the sentence could neither straighten up freely nor kneel down. Over the years, however, the level of the square has risen and for this reason the marten is now located much lower.
What punishments were the jougs sentenced for?
As we can read in Zygmunt Gloger's 'Encyclopaedia of Old Poland', the punishment of being chained to a martingale was usually imposed on debauchers – especially when the fruit of their time spent together was a child, and yet the young man did not want to marry the accomplice of the 'sin'. The main purpose of this punishment was humiliation, as the person sentenced to it was pinned down at the church before worship services at such a time as to be seen by all. This sentence was usually handed down by the parish priest, mayor, alderman or heir. If there was no jougs in the village, two tall brooms crossed crosswise and placed in the cemetery replaced the role of the jougs. The culprit had to stand by them with his hands up, which were resting on their tops.
We can, in turn, find a complement to the above information in Brückner's Encyclopaedia, who, quoting the words of the 17th-century Polish poet, author of books and guides Jakub Kazimierz Haura, wrote:
There was no pain, so Haur advised in 1680 that a woman should be beaten with rods in front of the community, and that a farmhand who did not want to get married should be "sentenced to fines for the village hospital and to do one day of the jougs penance on the feast day."
The punishment of the jougs was abolished in Cracow in 1779.